Ecodesigned silk squares and entirely made in France
Production that respects the environment and people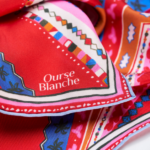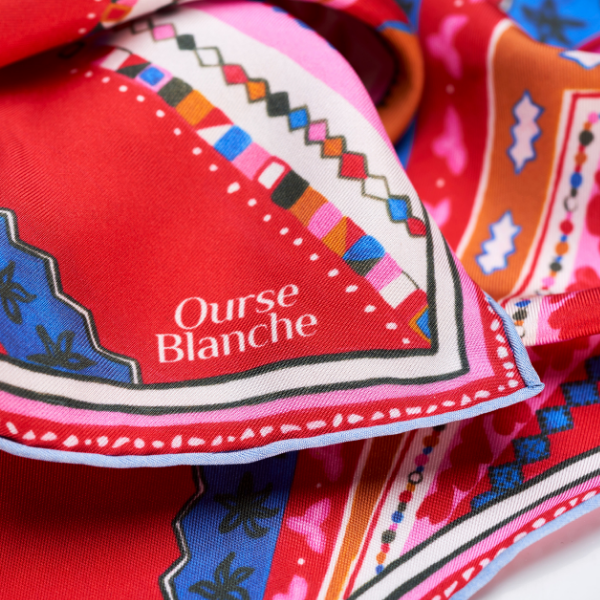 Health
Workshops certified OEKO-TEX®
All the workshops with which Ourse Blanche works comply with REACH regulations and are OEKO-TEX® certified, which guarantees that the inks used on the silk pieces are not harmful to our health and our skin.
Ecological and social commitment
New serie printed on GOTS silk
The Global Organic Textile Standard (GOTS) is the leading global standard for processing and manufacturing textiles for organic fibers, comprising ecological and social criteria, and supported by independent third-party certification.
GOTS guarantees:
1 / A minimum of 70% certified organic fibers (natural fibers produced without the use of pesticides, insecticides or synthetic herbicides, without GMOs)
2 / Adequacy of the treatment and manufacture of textiles with strict environmental and social criteria (from the evaluation of chemical inputs used to the ethical treatment of workers), at all stages of processing in the textile supply chain
3 / A certification carried out by a third party
Promotion of excellent French know-how
Workshops labelled "Entreprises Patrimoine Vivant"
The Entreprise du Patrimoine Vivant (EPV) label is a mark of recognition by the State, set up to distinguish French companies, among others, and industrial and artisanal know-how of excellence.
The weaving, printing and tailoring workshops selected for the new collection of Ourse Blanche pieces are EPV labeled.